This is another page about the historic snow in Tucumán (the only time that snowed in this city was 90 years ago!!!). It was amazing to see snow falling in our houses, the gardens, the cars, in the street!!!! of course it wasn't a LOT OF BIG SNOWBALLS LOL, but it was INCREDIBLE!!!!. To see more snow, we went to the mountains...
I used
"Winter Wonderland" by Shabby Princess
and
"Brrrr!" by Shabby Princess
Mask from "Something Blue Studios"
Font: velvet Script by Ronna penner
And the digital front pages of "La Gaceta" our local newspaper from Saturday 17th and Sunday 18th July, 2010. As you can see, the snow was the most important news that Weekend. It all started on Thursday 15th, but only @ the mountains, and on Friday there was actual snow in our houses. That was the coldest day.The front pages of
Friday, Saturday and Sunday were dedicated to the snow, but I only used these 2 because the images were better
.
After my other layout about the Snow fiasco LOL,
Click here to see"...Y la Nieve?"
it was so great to do a real Snow page LOL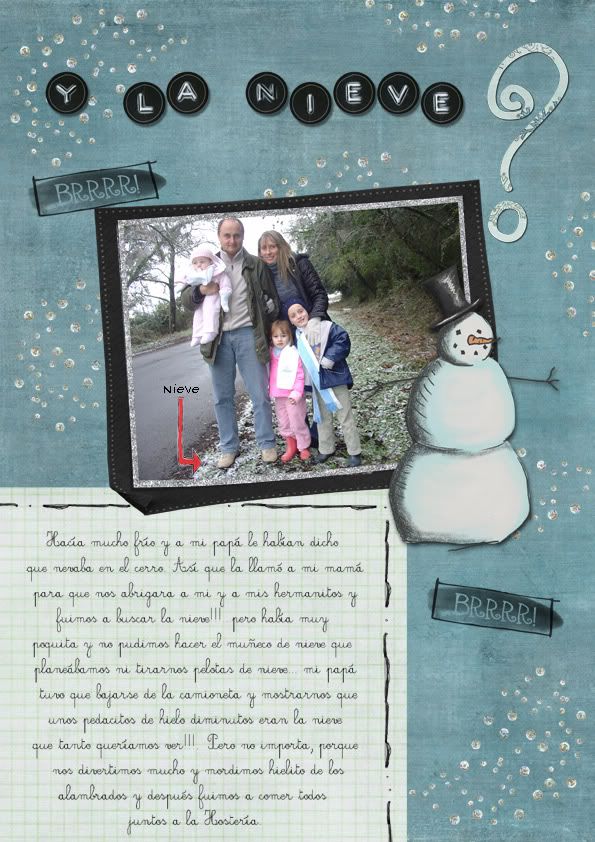 Translation:
Written by Julieta, 3 years old, (ok, not really LOL):
"It was a very cold day and somebody had told my dad that it was snowing in the mountains. So he called mom and told her to bundle us up (my brother, my sister and me) to go and see the snow!!...but there was almost no snow and we couldn't make our snow man or throw snow balls to each other as we had planned...my dad had to go down the pick truck to show us that those tiny pieces of ice were the snow we were all so anxious to see!!!!. But it didn't matter, because we had a lot of fun and ate some ice we found in the wires and after that we went to have lunch at a hotel".
Credits:
"Brr!" by Shabby Princess
"Shabby Squiggles" font by Shabby Princess (Question mark masked with a paper from the "Brr" kit)
Silver glitter frame from "Winter Wonderland" by Shabby Princess
Font: "Crayon E"